King's Dilemma, Welkin, Colors of Paris, IT: Evil Below, Fairyland RPG, Metal D&D Dice, Terror Below: Hidden Cache, New Unearth, X-Wing, Star Wars RPG and More!
Terror Below: Hidden Cache
Terror Below: Hidden Cache
is a component upgrade & expansion box for the game. Contents include:
Bonus Card – Saddle up!
Tinkerbelle Bonus Pack: 5 New Worms
Wooden Ramp Component & Item Card
Bonus Weapon Card: Experimental Arm Cannon
Bonus Energy Glove Item Card
T.P.K. W.O.R.M. Miniature
Wooden Tank Player Marker
Upgraded Wooden Target Tokens
Bonus Wooden Dice
7 Glow in the Dark Eggs
Banana Chan's Terror Below Physical Story Book
High Resolution Worm Art
The King's Dilemma
The King's Dilemma
 is an interactive narrative experience with legacy elements, featuring several branching storylines leading to many possible finales and an evolving deck of event cards at its core. Players represent the various houses leading the government of the Kingdom of Ankist.
You will draw one card from the "Dilemma deck" each round and experience the game story as it unfolds. Each card poses a problem that the Council has to resolve on the King's behalf. As members of the King's inner circle, your decisions determine how the story proceeds and the fate of the kingdom. Each event happens only once: You discuss and bargain with the other players, then finally you make a choice, determining the outcome, progressing the game story, and possibly unlocking more events.
You have to keep the kingdom going, while also seeking an advantage for your own house; this power struggle may lead the kingdom into war, famine, or riot, or it could generate wealth and well-being. This will depend on your choices! The thing is, each decision has consequences, and what is good for the kingdom as a whole may be bad for your family…
Will you act for the greater good, or will you think only for yourself?
Welkin
You are dreaming about evading in the islands? To travel above the sky and further than the horizon? Be glad as you now are a celestial construction manager, architect of the sky! Collect animal and plant ressources, assemble them and add a little life spirit: congratulations! You just built an island in the sky!
The aim of the game is to win the most gold by crafting and selling those famous floating islands. Each turn, the players/architects can either select a new island creation contract, produce resources amongst the 5 existing types, or allocate these resources on their contracts to craft them. Players have limited spaces to store these contracts and resources, so they'll have to juggle with their production line to complete their objectives in an optimized manner!
As soon as a contract is fulfilled, it is immediately sold and its creator receives gold depending on the resources used for its creation… but their value isn't fixed and depends on the current market! Is it better to get one's rewards immediately, or to manipulate the resources' values for a greater reward later…?
Once there's no more contracts available, the game ends. The architect who amassed the most gold will get their place amongst the stars!
Colors of Paris
You are a painter in Colors of Paris, and you've decided to participate in "Bateau Lavoir", a friendly competition between several painters in a workshop in Montmartre, Paris. The newspapers know about this challenge, so perhaps this is a good opportunity to become famous, following the path of Cézanne, Toulouse-Lautrec, Monet, or Renoir…
Colors of Paris is a management game in which you must take care of your paint tubes, mixtures, and time to create works, all the while anticipating others to perform as needed within a rotating set of actions.
Artsee
In ArtSee, you are the curator at an art gallery that is expanding. While you have fine tastes, it is important to be able to provide the experience that your customers are expecting. During the game, you will build out the art gallery with new exhibits among the four wings of your gallery. With enough prestige, you will earn the right to display prominent works, drawing in even more visitors. In the end, the curator with the most prestigious gallery wins!
Unearth: The Lost Tribe
In an age now forgotten, a Lost Tribe discovered The Darkness. To tame its evil, they bound its magic into the very stones of their land, crafting wonders like the world had never seen. But The Darkness gnawed its way free of those stones, and consumed much of their world. Now the Lost Tribe has returned to unite the Delvers and stand once more against The Darkness. Will they defeat it once and for all, or will their world be lost forever?
Unearth: The Lost Tribe includes three expansions for the hit game Unearth. Enhance the base game. Add a fifth player. Or play the new solo campaign, Against The Darkness!
Fairyland RPG
This is not a story of life and death. Nor one of grim horror. It is not a story filled with forbidden arcane magic or vile. It is a story where you are the hero, and where everything is possible. Even the most mundane is extraordinary. So, where does it begin? Like any story: at the beginning, once upon a time…
It is time to leave the real world behind and return to the world of your childhood: Fairyland. A land where anything is possible and your imagination is your guide.
From tiny smug black cats to little green dragons, and even yourself now is the time for you to tell your story and be the hero you want to be.
Richard Iorio (Colonial Gothic and Shadow, Sword & Spell) presents a game perfect for the whole family. Using simple mechanics, and allowing you to be anything you want, Fairyland stress one thing: imagination.
So are you ready to visit the landscapes of your imagination?
IT: Evil Below
IT: Evil Below is a co-operative dice and card game that challenges all members of The Losers' Club to work together to drive Pennywise back into hibernation. Based on the horror film classic It, take on the roles of The Losers' Club to stop this looming threat from terrorizing the town of Derry. Defeat him or die trying – it's up to you.
Toy Story Collector's Chess
Some of the most beloved characters from Disney Pixar Toy Story come to life in this Toy Story Collector's Chess Set depicting them as full-color sculpted PVC figures in the classic 2-player strategy game.
What's Included:
1 Game Board
32 Custom Sculpted Chess Movers
Team Woody: Woody (King), Bo Peep (Queen), Ducky & Bunny (Bishops), Duke & Buttercup (Knights), Hamm & Forky (Rooks), Sarge (Pawns)
Team Buzz: Buzz Lightyear (King), Jessie (Queen), Mr. Pricklepants & Slinky Dog (Bishops), Dolly & Bullseye (Knights), Rex & Trixie (Rooks), Little Green Aliens (Pawns)
Rules
Heavy Metal: Dungeons & Dragons 7-Die Set
Made from the same heavy, zinc alloy material as the Heavy Metal D20 sets, this RPG Dice set will make a fine addition to any dice collection. The set includes one each: D4, D6, D8, D10, D12, D20, and a Percentile Die. Each die has standard randomized number layouts.
The official dice set of Dungeons & Dragons
Set of 7 includes D4, D6, D8, D10, D12, D20 and a Percentile Die
The perfect set of premium dice for your next D&D adventure
Crafted from high-quality zinc alloy materials
Each die has standard randomized number layouts
Undaunted: Normandy
June, 1944: Through the D-Day landings, the Allies have seized a foothold on the beaches of Normandy. Now you must lead your troops forward as you push deeper into France and drive the German forces back. You will face intense resistance, machine gun fire, and mortar bombardment, but a great commander can turn the situation to their advantage!
Undaunted: Normandy is a deck-building game that places you and your opponent in command of American or German forces, fighting through a series of missions critical to the outcome of World War II. Use your cards to seize the initiative, bolster your forces, or control your troops on the battlefield. Strong leadership can turn the tide of battle in your favor, but reckless decisions could prove catastrophic as every casualty you take removes a card from your deck. Take charge amidst the chaos of battle, hold fast in the face of opposition, and remain undaunted.
Star Wars RPG: Gadgets and Gear 
"Hokey religions and ancient weapons are no match for a good blaster at your side, kid."
–Han Solo, Star Wars: A New Hope
As the Galactic Civil War dominates life in the galaxy, no one is safe. From civilians and common thieves to troopers and Jedi, protection and ingenuity are paramount to survival. In the quest for victory, every tool and weapon holds the potential to tip the scales in the war for the galaxy.
Gadgets and Gear is a 142-page essential collection of weapons and equipment for Star Wars Roleplaying!
With Gadgets and Gear, Game Masters and players have a huge selection of equipment right at their fingertips! This sourcebook gathers weapons, armor, attachments, and gear from all three Star Wars Roleplaying game lines including Edge of the Empire, Age of Rebellion, and Force and Destiny. It also adds new pieces of equipment, including weapons and armor used by heroic and villainous characters whose deeds are whispered about across the stars.
With hundreds of gadgets and gear catalogued in an easily readable new format, finding the perfect tool for the job has never been easier.
Star Wars X-Wing: 2nd Edition – Nantex-class Starfighter Expansion Pack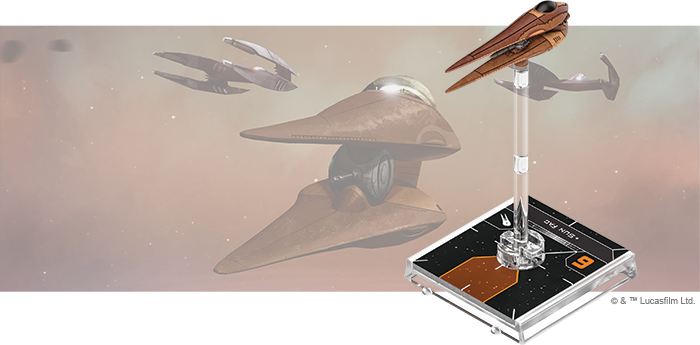 Dancing nimbly on invisible threads, the Nantex-class starfighter utilizes an advanced tractor array to perform impossible maneuvers and guide its turret-mounted laser cannon with exceptional precision. Swarms of these agile fighters are the first line of defense for the key Separatist stronghold of Geonosis.
Within this expansion, you'll find six pilots ready to fly the beautifully detailed and pre-painted Nantex-class starfighter miniature. Six upgrade cards give these pilots even more control over their ship, while two Quick Build cards offer useful combinations of pilots and upgrades to get you flying as soon as possible.
Star Wars X-Wing: 2nd Edition – BTL-B Y-Wing Expansion Pack
Designed with an armored hull for extra durability and a bubble turret to keep enemies at bay, the Republic's BTL-B Y-wing can run escort missions or lead an attack. Piloted by legendary Jedi and dedicated clone troopers, like Anakin Skywalker with his Shadow Squadron, this fearsome bomber performs reliably over any battlefield.
The BTL-B Y-Wing Expansion Pack contains everything you need to add one of these formidable ships to your Galactic Republic squadrons, including a BTL-B Y-wing miniature, eight ship cards, ten upgrade cards, and four Quick Build cards.