Lords of Hellas, War of the Worlds, Moa, Reanimator, Curio, Palaces, New Star Wars, Star Trek and More!
Lords of Hellas
Enter the Dark Ages of Greece, ruled by mighty Gods wielding advanced technology. Control asymmetric heroes and choose your path to victory, either by strategic control or adventure style monster hunting and quests.
Build majestic multi-part monuments of Gods on the board and unlock their mighty powers that will help you win and survive the raids of monsters, who travel through land and rain havoc.
In Lords of Hellas, you control an asymmetric hero, developed by increasing his 3 basic statistics and gathering artifacts. The main statistics are:
Leadership that will help you to move your armies
Strength that will empower you to successfully hunt for monsters
Speed that will make your hero move faster
Through the game you can choose from various actions and influence the game thanks to the mighty monuments of base Gods: Zeus, Athena, and Hermes. You need to strategically move your armies and hero as well as manage your actions in order to win.
Players can win in various ways: by controlling area, temples, or slaying monsters that are wandering through the map and interfere in various ways. Once any victory condition is met, the game ends (there is no point system).
The War of the Worlds:England
England is under attack by strange forces from Mars!
You must hurry to field forces to oppose the Martian menace before they ravage all of England and begin converting it for Martian colonization. The Tripods will first destroy your cities and send refugees fleeing across the land, desperate to escape via harbors and ships. Once an area is destroyed, Red Weed will start to sprout up, finishing their work.
As England is devastated, your production decreases and your ability to produce Field Guns, Infantry, and Cavalry also decreases! When you march your forces into the same region with a Tripod wave, you get to command them in battle! Once you deploy your forces to the map, they are ready to do battle!
In battle, the towering Tripods will march toward your positions as your guns do their best to bring them down. While advancing, the Tripods will attempt to detect your concealed guns. Once they do, they will blast them with heat rays!
Each game turn brings the war closer to victory for either Humans or Martians! The Martians gain colonization points by destroying the land and scooping up the fleeing refugees. You gain victory points by keeping your lands healthy, destroying Tripods, and evacuating the grateful refugees!
The game begins with a wave of Martian Tripods marching across England, as well as a Martian Cylinder already embedded in the ground, and preparing to construct a second wave of Tripods!
The War of the Worlds is a solitaire board game that puts you in command of the Human forces in a desperate attempt to defend Earth against the invading Martian Tripods!
While you plan and carry out the Human side of the war, the game system commands the Martian forces.
The War of the Worlds is a low complexity board game for gamers, science fiction fans, and anyone who likes an easy to play game with good decision-making. Each games takes only an hour or so to play.
The War of the Worlds: USA-The East Coast
The US fielded a small military force at the time. This results in them having fewer Units at the start of the game. However, as seen a few decades earlier during the Civil War, the US is able to rapidly ramp up their production capabilities and quickly expand the size of their army. As the game unfolds, the US receives production bonuses to reflect this. The geographical area represented by the US map is larger than in the other games, as such, each Martian Wave is made up of 5 Tripods, and they tend to move a little less often. To match this, the US must pay 3 PP to move Units during the Production step. The US game gives a more lumbering feel with large forces bashing against each other.
The War of the Worlds: Japan
Japan possessed a small but well-trained military at the time. To reflect this, their Units cost a little more, but also have a better chance to carry out their orders. Their smaller geographical area makes for more intense combat with fewer movement options. The Martians have 3 Tripods in each Wave. Japan only pays 3 PP to build Harbors, and only pay 1 PP to move Units during the Production step. Battles in Japan will be close-in, intense, and highly mobile. Overall, the game will have a frantic feel.
The War of the Worlds: France
While France enjoyed quality soldiers and equipment, it suffered from a lack of quality leadership. In the game, French forces are less expensive, but also less skilled. This will make their battles larger than English battles, but they will also suffer more casualties. They have the standard 4 PP cost to build Harbors, but must pay 3 PP instead of 2 PP to move Units during the Production step. Again, reflecting the lack of effective leadership. The Martians receive 4 Tripods in each Wave.
Reanimator: The Board Game
Reanimator is a cooperative mystery-story board game for 1-4 players.
Players will work together taking on the role of the narrator from Lovecraft's original story in order to perfect the protagonist's experimental reanimation serum.
Classic characters including Herbert West, the City Watch, and the Undead wander through Arkham to help or hinder the players as they undertake their profane task.
Subplot decks of cards will develop your story through gameplay, forcing players to respond to new adventures and challenges only the world of the ReAnimator can provide!
Players play through six iconic serials akin to the original novel series with modified enhancements from the comics.
Moa
Moa takes its inspiration from the events surrounding the settlement of New Zealand, recasting them with anthropomorphized birds and mammals. The inhabitants of the Pacific island are represented by giant birds, such as the moa and kakapo, while the settlers from the west are played by dogs, rats, possums and weasels.
Players take on the role of the defenders of the land, competing with their fellow players for control of the regions while staving off the advances of the mammals. However, the cunning bird may consider selling their land to the mammals rather than fighting to defend it.
Moa is an original design inspired by Martin Wallace's stay in the Land of the Long White Cloud.
A 2-player variant is included in the rule book.
Amun-Re: The Card Game
Amun-Re: The Card Game is a card-based version of Amun-Re, and the auction at the heart of that game is still present in this design, with the results of those auctions driving the rest of the action.
In more detail, Amun-Re: The Card Game lasts three rounds, with three auctions in each round, followed by other actions, then a scoring. Each player starts the game with money cards valued 0-8, and at the start of the game, everyone chooses money cards that sum to 14 (with the 0 being included) and lays those cards face up on the table. Province cards equal to the number of players are revealed, and players take turns bidding on provinces by placing exactly one money card next to one province, outbidding an opponent if someone else has already bid there; if you're outbid, you take back your money card, then bid again on your next turn. Eventually everyone will have bid on separate provinces, after which you discard the non-0 bids, then lay out new province cards and run through two more rounds of bidding.
Province cards show different numbers of pyramids, ankhs, and fields, with a caravan possibly being visible as well. Whoever has the most ankhs visible is Pharaoh, going first in each action with ties broken from the Pharaoh going clockwise.
After three rounds of auctions, players will have some amount of money (possibly only the 0) still in hand. Everyone simultaneously makes an offering of gold, and the sum of the offerings determines how much the Nile floods, which determines how much money players will earn from fields. If the sum is 10 or less, players with caravans receive 10 gold per caravan. Whoever offers the most gold receives three pyramids to place on their province cards, with others receiving two and one pyramids.
In player order, players determine their income level, then spend gold to build pyramids on their cards (distributing them as equally as possible), then they take money cards into their hand to account for any income not spent. They then score points for sets of pyramids, for having nine or more fields, and for having the most ankhs.
The second and third rounds of the game play out similarly, except that when you claim cards following the auction, you place these province cards on top of your previous province cards so that only the imprinted and acquired pyramids are visible. Everything else is buried in the sands. You score again at the end of each of these rounds, then the player with the most points wins.
Curio: The Lost Temple
A sinkhole formed west of the Tigris river in the heart of Mesopotamia, revealing a large stone door with curious, unknown markings. A special team of archaeologists, from all over the world, ventured to the site to solve its puzzle, allowing them inside. Therein, a massive man-made cavern, stretching for what seemed to be a mile straight down, could be seen. But just as the team decided to leave, the door slammed shut, sand slowly started filling the room, and the team was faced with new puzzles to solve. Can they do it in time?
In the real-time cooperative game Curio: The Lost Temple, players take the role of the archaeological team as they try to escape the Lost Temple. To do this, they need to communicate and collaborate to solve an unending slew of puzzles.
Unlike other games in this genre, Curio: The Lost Temple is endlessly replayable, even by the same players. Using a unique module-based system, players manipulate, sort, rotate, and search puzzle components to arrive at a distinct answer.
Palaces
Palaces is a deck-building bidding game in which you win cards and build towers.
On a turn, the active player chooses to draw from one of three stacks of cards, then all players bid or drop out. There is only one round of bidding per card. Bids are valued based on the size of a suit (e.g., three-of-a-kind beats two-of-a-kind, etc.), and if the size matches, you compare suits: Gold, Silver, Crystal, Marble. If size and suit match, compare a secondary bid (3 gold and 2 marble beats 3 gold and a silver).
The highest bidder activates the card's special effect and adds it to their discard pile. (Eventually it returns to their hand and activates again when in a winning bid.) The winner of the bid also gets to add a room to one of their two towers, while the other players draw cards. Play proceeds clockwise.
Each player's two towers must match one another. The winner is the player with the tallest lower tower.
Unlike most deck-building games, you do not void your hand after your turn. Players who win bids discard their bids to build their towers, while other players draw cards.
Deadpool vs The World
Deadpool makes his mark on adult gaming in Deadpool vs the World, a hilarious party game for mature audiences. Featuring 100 custom illustrations of Deadpool in very strange and unsightly situations, players face off against their friends by filling in the blanks on Caption cards to provide the most outrageous explanations of the Merc with a Mouth's predicaments. The player who best describes Deadpool's compromising situations wins the game.
Star Trek: Deep Cuts Unpainted Miniatures
For fans wanting to paint their very own Star Trek: Attack Wing ships, WizKids has you covered! Star Trek: Deep Cuts Unpainted Miniatures each comes with one highly-detailed ship, pre-primed with Acrylicos Vallejo primer, and include deep cuts for easier painting. Each miniature will contain a Star Trek: Attack Wing base, two Star Trek: Attack Wing pegs, a Star Trek: Attack Wing connector piece, and most will also include a decal sheet to allow players to paint their ships and then decal them for display or for use in a game of Star Trek: Attack Wing! Star Trek: Deep Cuts Unpainted Miniatures can be found at The Wandering Dragon now!
Magic the Gathtering: Global Series JIANG YANGGU & MU YANLING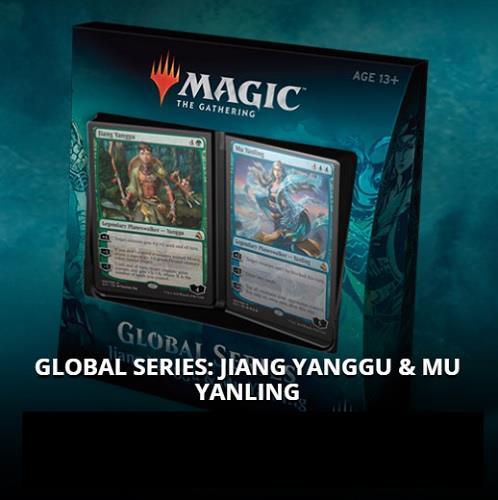 These Global Series decks, featuring all-new cards and characters, represent the work of Chinese writers, artists, and designers, created for Chinese players but now available in the United States!
Star Wars Force and Destiny RPG: Knights of Fate
The galaxy is a dangerous place. The teachings and traditions of the Jedi have been lost to treachery and murder. A new generation of those who wield the Force alongside martial training or physical prowess stand against the corrupting darkness. Whether to protect the innocent or assault the enemies of peace, Warriors invoke unparalleled mastery of combat bolstered by the mysterious power of the Force.
Knights of Fate is a sourcebook for the Force and Destiny roleplaying game, focused on the Warrior career. Included in its 96 full-color pages are a multitude of character options such as three new species and three new specialization trees that emphasize unique methods of fighting with the Force. New starships, vehicles, droids, weapons, and other equipment will help expand your campaign's richness and variety, whether it exclusively uses Force and Destiny or any of the other Star Wars Roleplaying Game line. Knights of Fate also features support and guidance for reinforcing the themes and roles of Warriors in the narrative, from suggestions on how they could approach different challenges to the ways in which other character Careers might interact with a Warrior's capabilities and limitations.
Star Wars X-Wing: Saw's Renegades and TIE Reaper
"Save the Rebellion! Save the dream!"
–Saw Gerrera, Rogue One
The Death Star is nearly complete—and it's time for battle to be joined in the skies above Jedha, Scarif, and Eadu. Fantasy Flight Games is proud to announce the two expansion packs that make up Wave XIV for X-Wing!
Saw's Renegades Expansion Pack
TIE Reaper Expansion Pack
With these two new expansion packs, you're drawn directly into the breakneck starfighter conflicts of Rogue One and the beginning of the Galactic Civil War. You may fly with Saw and his partisans, willing to fight for freedom from the Empire at any cost. Or, you may join up with the Galactic Empire and ferry your elite troops into combat in a TIE reaper. No matter which side you support, the starships and upgrades of X-Wing Wave XIV take you into frantic battles for the survival of the Rebellion and the destruction of the Empire's ultimate weapon.
Saw's Renegades Expansion Pack
Take the skies with Saw Gerrera and his renegades with the Saw's Renegades Expansion Pack! Rather than introducing completely new ships to the game, this expansion follows in the vein of the Rebel Aces Expansion Pack and Heroes of the Resistance Expansion Pack by introducing new versions of existing ships already in the service of the Rebel Alliance. In this case, you'll find two new ship miniatures—a U-wing and a T-65 X-wing, both pre-painted in the stunning black-and-white paint scheme of Saw Gerrera's freedom fighters.
Though the ships may be functionally the same as the ones included in previous expansions, the Saw's Renegades Expansion Pack offers an assortment of ship cards featuring pilots from Saw's motley band of warriors—or even Saw Gerrera himself, flying his powerful U-wing into your battles. Along with new ship cards for both the T-65 X-wing and the U-wing, you'll find an arsenal of fifteen new upgrade cards, equipping your squadrons with any number of unusual tactics or system upgrades.
For example, you may load one of your U-wings with the new Targeting Scrambler included in this expansion pack. In order to devote your pilot to using the Targeting Scrambler, you'll need to give up the chance to fire this round, taking a weapons disabled token for your own ship. In exchange, however, you can choose any ship at Range 1-3 and give it the Scrambled condition. Then, when the ship that's been Scrambled would attack your ship at Range 1, it loses any ability to modify its attack dice! If you're using your U-wing or another ship to coordinate the battle, you may want to keep it alive for as long as possible. Scrambling the targeting systems of incoming attackers is just one way to keep your starships around for a few more turns.
With these ten ship cards and fifteen upgrade cards, plus the maneuver dials, tokens, and rules included in this expansion pack, the Saw's Renegades Expansion Pack gives you everything that you need to take the fight to the Empire!
TIE Reaper Expansion Pack
Engineered as a high-performance troop transport for in-atmosphere missions, the TIE reaper also made its debut in Rogue One. Equipped with advanced ailerons for precise atmospheric maneuvering, thick armor plating, powerful laser cannons, and the capacity to carry elite infantry, this menacing vessel struck fear into Rebel forces across the galaxy.
Any TIE reaper that you choose to fly in your squadron packs a potent strike, rolling three attack dice as its primary weapon attack. A TIE reaper is not especially agile, leaving it with only a single defense die, but with six hull and two shields, these starships are durable enough to stick around on the battlefield. In fact, TIE reapers bring something quite special to your Imperial X-Wing squadrons. This ship bears the unusual jam action that lets you jam nearby ships and prevent them from using a focus, evade, or target lock—opening a wealth of tactical opportunities when you're building your squad or flying into battle.
Due to its primary nature as a troop carrier, it makes perfect sense that the TIE reaper has two crew upgrades as its upgrade slots. You may choose to fly Emperor Palpatince himself into combat in a TIE reaper, or you may use it as it was first deployed in Rogue One: to carry Director Krennic's Death Troopers into combat. Death Troopers take up both of the TIE reaper's crew upgrades, but they give you an undeniable reward for coming into close combat. The Death Troopers card reads, "After another friendly ship at Range 1 becomes the defender, if you are inside the attacker's firing arc at Range 1-3, the attacker receives 1 stress token." By dumping more stress onto your opponent's ships, you're limiting their options and giving yourself a better chance of coming out victorious.
In the TIE Reaper Expansion Pack, you'll find the pre-painted TIE reaper miniature, four different ship cards, eleven upgrade cards, a maneuver dial, and all the other tokens that you need to bring the Empire's deadliest troopers into the heat of battle.
I Will Not Fail
From the low-flying infiltration of the Imperial base on Eadu, to the frantic starfighter battles in the skies above Scarif, X-Wing Wave XIV takes you into some of the most desperate and dangerous action of Rogue One. Choose your side, get your pilots to their ships, and take to the skies!