Legendary James Bond, Machi Koro Legacy, Hunger Games, D&D: Endless Quests, Fallout RPG, New Arkham and More!
Legendary James Bond 007
"The name's Bond. James Bond."
Welcome to Legendary: James Bond 007! In this game 1-5 players can play four classic Bond movies: Goldfinger, The Man With The Golden Gun, GoldenEye, or Casino Royale. Can you foil Operation: Grand Slam and end Goldfinger's plot to contaminate the gold supply of the United States? Do you have the steely nerve to best Le Chiffre in the high-stakes poker tournament at Casino Royale? In this game the players are in control. The fate of the world is up to you. You can fight against the forces of evil by yourself or gather a cadre of up to four friends. Defeat the evil Masterminds as they lead powerful Villains in an attempt to complete their Schemes to gain power and world dominance!
Game Summary
Each player starts with their own deck of basic starting cards. At the start of your turn, play the top card of the Villain Deck which allows Villains and Missions to enter "On Assignment", acquire Gadgets, and wreak havoc on the players in other nefarious ways. Then play Hero cards from your hand to generate Attack, Recruit Points, and special abilities. You use Attack to defeat your enemies. You use Recruit Points to recruit more powerful Heroes from "Q Branch" for your deck. Whenever your deck runs out of cards, shuffle your discard pile to make a new deck, including all the new Heroes you recruited. This way your deck gets stronger and stronger over time. Build up enough power, and you can defeat the Mastermind! But be careful: If the players fail too many Missions, the Mastermind wins the game!
Thieves Den
In Thieves Den, set in the world of 10 Minute Heist: The Wizard's Tower, the players are master thieves who send their hirelings out into the city to nab the choicest treasures, then sell those ill-gotten gains to the underworld fences to increase the master thief's reputation. Certain treasures can also be bartered to Alazar, the wizard, for special powers.
Thieves Den is played over three rounds. In each round, each player drafts three location cards as potential targets for their thieving. All of these locations are public knowledge, and in the next phase the players take turns sending their minions to the locations to score the loot. You can send your thieves to any of the locations, but if you send them to another player's location, that player may also get a prize, sometimes extra treasure, sometimes more thieves. During this phase, players can also send thieves to carry special assortments of treasures to one of the fences, gaining that player reputation points. Bonus reputation points can also be earned by building relationships with specific fences.
After three rounds, the player with the highest reputation is the new crime lord of the town.
Thieves Den: Fortune Favors The Bold Expansion
The festival has started and the gambling boat has docked at the harbor! Will you put it all on the line for a chance to win big? Roll the dice and find out!
The Thieves Den: Fortune Favors The Bold expansion adds:
5 Fortune Dice
1 Gambling Boat Tile
5 Festival Cards
10 Location Cards
7 Power Cards
6 Power Tiles
5 Score Markers
Haka Onna
Now available in English from WizKids, the Hit Japanese Game of Supernatural Horror, Hako Onna, is a game of horror hide-and-seek. One player plays the "Hako Onna" (the Woman in the Box), and the rest are "Visitors", who are trying to escape from the mansion. As Visitors, you'll try not to make noise as you search the shadowy rooms of the mansion for items to protect yourself, for information, and for a way to escape what you do not see, but know is there. But if you stumble upon the Hako Onna, you're dead. Players who discover the Hako Onna become a Hakobito, one of her servants, and wake up with her to move throughout the house.
During most of Hako Onna's turn, the human players must keep their eyes closed so they cannot see where she moves to or what action she has done. The game also features a unique optional dexterity element that adds to the game's overall tension and dread. Before a visitor can take their turn, they need to avoid making noise by stacking a small disc on top the previous ones; if the tower collapses, they've made noise and it instantly becomes Hako Onna's turn.
Hako Onna can win the game in two ways:
If all visitors are turned into Hakobito, or
If she has made it impossible for the visitors to win.
The human players can win in one of three ways:
If they manage to kill Hako Onna after finding her only weakness,
If they find the secret exit, while in posession of the key ring hidden inside the safe, or
If they can bring peace to Hako Onna by bringing the remains of her body to her precious doll, Mary.
Since its original publication in Japanese, Hako Onna has reached its fourth edition, and has been republished in English by WizKids. The English edition features all-new cards for players to use as they experience the thrilling horror of this thematically-rich game.
Architectura
The most eminent architects came here to erect a magnificent city with the best theaters, greenhouses, and taverns. Each architect wants to make the most significant contribution to the city construction, but their ambitions will inevitably lead to a challenging competition.
In Architectura, your table turns into a grid of city streets and blocks. Each building you construct affects the value of the adjacent buildings, or even destroys them! Let's say you've just built a magnificent temple. A vulgar market around the corner doesn't belong there anymore and has to be shut down right away — but a park near the temple's entrance will definitely be a good match and will even profit from the divine proximity.
Rotate the cards to change their values, resolve their special effects, and do your best to carefully manage your options to become the best architect of the city!
Play Architectura by the basic rules or the advanced rules in which you assemble a unique deck for each player. Whichever version you play, each game will be different!
Machi Koro Legacy
Machi Koro Legacy features the same gameplay as Machi Koro. You are still rolling dice, you are still collecting income, and you are still racing to build landmarks — but then you unlock the [censored] and you start earning a little extra income by [censored], and then you start to explore the [censored] and you have to make a choice between [censored] and [censored]. Even if you aren't in contention to win a given game, you still have [censored] to set up exciting [censored] for the next one. And then the [paragraph deleted]…
Machi Koro Legacy features a ten-game series that tells a complete story set in the world of Machi Koro in which player choices create a unique gameplay experience.
Conspiracy: The Solomon Gambit
The briefcase is out in the open, and six freelance agents are in the field.
In Conspiracy: The Solomon Gambit, a restoration of the 1973 classic game conspiracy, players vie for control of the agents by secretly paying them off and using them to move the briefcase across Europe, trying to get it to their HQ. But other players can challenge and stop an agent from moving if they have paid more than you — and for the right price they can even assassinate another agent.
In addition to a slick new look, this restored edition offers two new twists on the original gameplay. First, each agent has a unique ability that lets them move an agent or the briefcase for free. Second, an alternate win condition eliminates stalling and potential stalemates. If no one wins within a certain number of turns, Dr. Solomon can end the game immediately, and whoever has paid off the most to him wins the game. However, if you pay off too much to Dr. Solomon early in the game, that can leave you with little control over the other agents, forcing you to strike a tricky balance between immediate and long-term goals.
Amul
The city of Amul was one of the largest centers of international trade in ancient times and an important transit point on the Great Silk Road. The prosperity of this splendid city of merchants peaked after Arabian conquest in the 10th century and it was destroyed by the Mongols in 1220.
Amul, originally announced as Silk Road, is a card game of bustling bazaars for up to eight aspiring merchants. In Amul, each player is a striving merchant, competing for wealth and success. The creative card drafting mechanism caters to swift and simultaneous gameplay, keeping all players constantly engaged.
Draft cards from the market to collect goods and valuables, hire guards, assemble caravans, and make contracts with traders. Manage your hand effectively as only certain cards can be played to the table for scoring, while others must be in your hand for optimal end game scoring.
Fallout: Wasteland Warfare Roleplaying Game Expansion
The Fallout: Wasteland Warfare Roleplaying Game Expansion will build on the narrative wargame​ experience of the tabletop miniatures game, and will include new rules for character creation, creating adventures in the wasteland, and more.
​Fallout: Wasteland Warfare game designer James Sheahan is developing the roleplaying game expansion, that will let you explore the desolate wasteland of the Fallout universe, fight terrifying mutated creatures and encounter the denizens who make the wasteland their home.
Delve into abandoned Vaults, ruined cities, strange facilities, and antiquated military bases. Encounter Super Mutants, Raiders, Survivors, Vault Dwellers, the Brotherhood of Steel, the Institute and the Enclave, and many more! Will you roam wide and far, or build up and protect your settlement? For those who want to create their own unique characters, use the faction based Archetype cards to start your own hero and see them grow from adventure to adventure.
Sierra West
In the late 1840s, thousands of pioneers headed out West to seek wealth and opportunity. Many of these brave souls traveled by wagon over the Sierra Nevada mountain range, into what would soon become the Golden State of California. In the game Sierra West, you are an expedition leader who must guide a party of rough-and-ready pioneers—employing a clever mix of strategy and tactics with each step.
Sierra West comes with four sets of special cards and parts, each of which can be combined with the game's basic components to create a unique mode of play. During setup, the players choose a mode, then build a mountain of overlapping cards with the corresponding deck. Each mode adds new thematic content, alternate paths to victory, and interesting twists on the core mechanics.
The four included modules are:
Apple Hill
Gold Rush
Boats & Banjos
Outlaws & Outposts
Overview of Play
At the start of each turn, you will overlap and arrange three cards into your player board—exposing and concealing a selection of the action icons available on them. This will create two unique paths for your pioneers to follow. Next, you will move your pioneers across their paths from left to right, performing a series of small actions. Common actions include: claiming cards from the mountain, building cabins, gaining resources, and advancing your wagon. Additional actions are brought into the game by the chosen mode—such as: harvesting apples, mining for gold, fishing, and fighting outlaws. As your pioneers complete their paths, they will gain access to the action spaces on the upper portions of your cards. On these, you will be able to exchange resources for to advance on the wagon trail and homestead tracks, or activate other special abilities unique to the mode.
As the game continues—and more cards are removed from the mountain—new and exciting things are discovered! Each piece of the mountain is either a card that can be gained to improve your deck, or a special card that is added to a face-up row at the mountain's base. As this row extends, more of the mode's opportunities and challenges come into play. For example, in Boats & Banjos mode, the row is a river that offers more fishing and gold panning options as time goes on.
Sierra West can be set up and played in under an hour, often leaving people with the desire to play it again right away—especially to explore the other modes! It is a highly thematic Eurogame that offers a truly novel and satisfying spin on action-programming, worker-placement, and deck-building.
Star Trek Adventures RPG: The Alpha Quadrant
HOME, SWEET HOME
WE ARE ALL EXPLORERS DRIVEN TO KNOW WHAT'S OVER THE HORIZON, WHAT'S BEYOND OUR OWN SHORES.
The Alpha Quadrant Sourcebook provides Gamemasters and Players with a wealth of information to aid in playing or running adventures set within the Star Trek universe.
The Alpha Quadrant Sourcebook contains:
Eleven new alien species Player can choose from during character generation, including Aurelians, Caitians, Edosians, and Ferengi.
A selection of alien starships from the Cardassian Union, the Ferengi Alliance, the Breen Confederacy, and the Tholian Assembly.
Guidance for the Gamemaster on running missions and continuing voyages in the Alpha Quadrant, along with a selection of plot components to help plan adventures and several new Non-Player Characters to enhance encounters.
Details on the Federation's presence in the Alpha Quadrant up to 2372, and details on the homeworlds of Betazed, Denobula, Tellar Prime, and Trill.
Material about the people, history, and culture of Bajor and the Cardassian Union, including details on Cardassia Prime and other worlds.
Information about the Ferengi Alliance, the Tzenkethi Coalition, the Breen Confederacy, and the Tholian Assembly.
The Star Trek Adventures supplementary rulebooks and sourcebooks require the Star Trek Adventures core rulebook in order to play.
You will receive a complimentary PDF upon completion of purchase.
Dungeons & Dragons: Endless Quest Books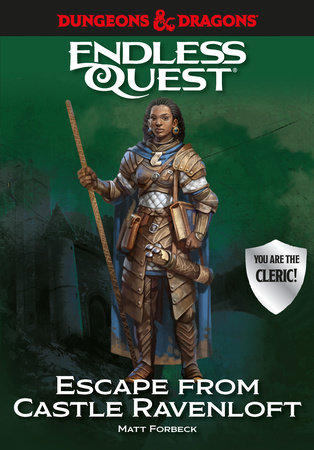 Welcome to the Forgotten Realms Endless Quest books, where you don't just read a fantastic tale. You become the hero — and choose your own fate.
You have entered the mist-shrouded realm of Ravenloft, where you attract the attention of Count Strahd, who decides to make you one of his vampire spawn. After awakening to find yourself alone within the walls of Castle Ravenloft, you must figure out how to escape the vampire lord's Gothic lair before you are doomed to become his slave for all time. Keep your wits about you, cleric.
The Mad Mage's Academy, Big Trouble, Into the Jungle and Escape The Underdark Also Available!
Dobbers: Quest for the Key
Dobbers: Quest for the Key is a whimsical, family friendly board game for 2-4 players. It is a deck building, encounter building, strategy board game.
Create surprise encounters for your opponent while building your deck and equipping your hero.
The mechanics are simple enough for most children to enjoy, while having strategies that are complex enough that even the most seasoned gamer will feel engaged.
It usually takes an hour or less to play. It will take longer while you learn card details and how they may effect your strategy.
It has a high fantasy theme, with comic-book style, bold illustrations.
The objective is to move your hero along your chosen path to the final space on the board, represented by "the Key". The first player to reach the key with their hero wins!
There are two strategies essential to winning the game:
First, placing challenging encounters on the board, preventing other players and their heroes from being able to advance along their chosen path. Second, equipping your hero and building up your personal deck so that you can more easily overcome any encounters that have been placed along your path. Player will have to do both well if they expect to reach the key first and win the game!
Cthulhu: The Great Old One (Deluxe Edition)
Cthulhu: The Great Old One (Deluxe Edition) is a quick-play card game based around the characters and mythology of the writings of H.P. Lovecraft.
In Cthulhu: The Great Old One (Deluxe), each player takes their turn in order; first drawing, then stealing, then recruiting cards, and finally playing any Pairs they might hold, as well as any one Horror or Cultist card.
Matched Pairs give 2 victory points, Linked Pairs give 1 victory point, as does any played Horror cards.
Once any player completes their 7th pair, the game ends and players count up their victory points.
If any player holds the Great Old One card, they lose the game regardless of points. However, if a player holds the Great Old One and has already played the Cultist card in their play area, they win! Otherwise, the player with the most victory points wins!
With the Horror cards and game mechanics, there are a lot of fun strategies to keep the fast-paced action going, but there still remains a luck element as well to help give less experienced players a fighting chance against players who are more familiar with game possibilities.
The Deluxe version is basically a whole new game drawing inspiration from the original, but re-implementing the system with new cards, new card types, new turn style and play mechanics, and updated card looks and text.
The Hunger Games: Mockingjay – The Board Game
Panem hangs in the balance in this strategic tabletop game as the Resistance tries to overthrow the oppressive Capitol!
Panem is in revolt. After Katniss escaped from the quarter quell to the mysterious District 13, she joined an all-out rebellion. The Hunger Games: Mockingjay – The Board Game is a strategic board game where two to four players must employ all their wits in order to free or control Panem.
Montana: Heritage Edition
Halfway through the 19th century the first permanent settlements appear in Montana. After this many fortune seekers travel to this region with their caravans in search of work and building a better future for themselves. And there is an abundance of work, in the mountains precious metals are to be found and on the fields a lot of manpower is required. Meanwhile the number of settlements is growing and the demand for goods is rising. Recruit the right workers, deliver goods on time, and choose your settlements tactically. Only then you will have the biggest chance of winning the game.
Super Camelot
Super Camelot is a competitive board game where players take turns using their favorite Arthurian characters to flip tiles, enter designated areas which get populated with monsters, intractable terrain, treasures and more!
As players explore, they will come across items and gems. The first player to collect 40 gems worth of points wins the game. As an alternate condition to winning the game, players can find a combination of three magical artifacts; earth, wind and fire and then return to the starting zone to collect the holy grail and claim victory immediately.
Be careful though, the world you explore has many dangers and if you take too much damage you lose a turn. So stand fast knights and quest for success and victory in Super Camelot!
Kingdomino Duel
Roll the dice, choose the ones you want, and put them together in pairs to create your dominoes. Domino by domino, fill in your map while entrusting the territories of your kingdom to loyal dignitaries. Gather favors from wizards in order to cast powerful spells that will allow you to rule without having to share.
Kingdomino Duel is a standalone game that preserves the essence of the acclaimed original Kingdomino. In this game, instead of adding dominoes to your kingdom, you will choose two dice to combine into a single "domino" that must then be drawn into your kingdom.
Potemkin Empire
Russia, 1787: Empress Catherine the Great is taking a surprise trip down the Dnieper River to survey her new kingdom. This will take her directly past your old, unremarkable village. You don't have the time or money to make your village impressive, but with a few pieces of timber and some strategically placed facades, you could certainly make your village seem impressive. More impressive, at least, than all the villages around it. What's behind the riverfront doesn't matter, after all — only the opinion of her Imperial Majesty.
In Potemkin Empire, you play the role of a mayor of a small Russian village. You attempt to impress Empress Catherine by convincing her that you have the most prosperous and stable village in the land. But with her visit quickly approaching there's no time to really fix your village, so you're just going to have to make it look as impressive as possible. That is to say, you're faking it. You'll accomplish this by drafting interior cards that are either real or fake, then combining them with facades to construct an imposing, if flimsy, kingdom.
You score points by producing goods in your industrial buildings, exposing opponents' fake buildings with spies, constructing government and cultural buildings, and passing off fake buildings as real ones. The player with the most points at the end of the game wins!
Homesteaders: 10th Anniversary Edition
The Homestead Act of 1862 allowed Americans to claim undeveloped land by living on and farming it for five years. Also in the 1860s, the Transcontinental Railroad was built across North america, linking rail networks between the East and West coasts. The development of railroads accelerated the spread of homesteaders colonizing the West and led to the rapid cultivation of new land.
Homesteaders is a fast paced auction game in which players will manage their resources to build up a town in the old west. Buildings must be chosen wisely – the player who earns the most victory points will have the city named after them!
2-4 players
Ages 12+
90 minute play time
Contents:
Auction Board
65 Metal Victory Point Tokens
63 Metal Silver Coins
32 Travel Tokens
4 Player Screens
8 Player Markers
30 Auction Tiles
53 Building Tiles
25 Worker Meeples
Metal Start Player Marker
4 Market Reference Tiles
162 Punchboard Chits
74 Wooden Resource Tokens
Silver Foil Box Sleeve
Rulebook
Cthulhu: A DBG: The Horror in Dunwich
Cthulhu: The Horror In Dunwich, a standalone expansion to Cthulhu: A Deck Building Game, adds new mechanisms to the game design such as allies, permanent equipment, Mythos locations, and more.
Siege Storm
Siege Storm: Siege Mode is a unique card game that can be played head to head, and also in cooperative and solo modes. Offering fresh, high-quality gameplay and also beautiful design, the game will satisfy even the most demanding players.
Arkham Horror: Return to Path to Carcossa
"I knew that the King in Yellow had opened his tattered mantle and there was only God to cry to now."
   –Robert W. Chambers, The Yellow Sign
You thought that the final curtain had closed on your dealings with The King in Yellow. When the cursed play first came to Arkham, it was followed by a string of disappearances, delusions, suicides, and madness. Throughout The Path to Carcosa cycle, which marked the second full-length campaign for Arkham Horror: The Card Game, your search for answers took you across the sea to the shining lights of Paris and beyond to Dim Carcosa and before the throne of Hastur himself in eight unique scenarios that tested your conviction, made you doubt your senses, and pushed you to the edge of insanity. But now, madness returns to Arkham for an encore performance…
Medium: Second Sight Expansion
Medium: Second Sight expands the mind-reading game Medium, providing new sets of words for all-new mind melds as well as new ESP (extra special power) cards to add to gameplay!
Walls of York
The city of York is being built. Many buildings have already been built, but without a protective outer wall to defend against the Viking raids, the city is bound for failure. The king has called together his best architects to design defensive walls for the city, but only one design will be used. That architect will be hailed as the greatest architect in all the land.
In Walls of York, players must use the plastic wall pieces to construct a defensive barrier around the buildings on their city map. Each turn, a player rolls the building die, which dictates which types of walls are to be used. Players must enclose their city, containing the required buildings from the King's decree — but players must beware for the Vikings will come and lay waste at the end of the first age, forcing players to build anew in the second age. The player with the most coins at the end of the second age wins.
Lorenzo il Magnifico: Houses of Renaissance
In Lorenzo il Magnifico: Houses of Renaissance, each player now becomes the head of a powerful house of Renaissance, each of which has a strong special ability that only that player can use. Players choose the houses from the ten available at the beginning of the game through a special and fast auction. This expansion also introduces:
48 new Development Cards and a fifth tower, where these cards are placed. These cards add to the game a lot of new powerful effects.
20 new Leader Cards with a new leader mechanism.
30 special tokens that player can take and use in combination with the new cards, and that add new way to collect resources and perform actions.
The components to add a fifth player to the struggle for the power.
A Song of Ice & Fire Miniatures Game Unit Expansions
Lannister Poor Fellows
The Poor Fellows do not wear fancy armor. Their weapons are whatever was close by when they headed into combat. But enemy Commanders that discount their prowess in battle will soon find themselves overrun by fanatics.
The Poor Fellows Unit Box gives Lannister Commanders a unit full of surprises on the battlefield. Having only moderate combat abilities, their true strength comes from passing Morale tests. That gives them a Faith token that can later be spent to deal direct Wounds to enemies. The unit also continually regenerates its numbers as the battle goes on, calling up new faithful to join their ranks each time they activate. The unit can be on the verge of destruction one turn, then swell back to full combat strength in a couple turns.
Tully Cavaliers
The alliance between House Tully and House Stark is one of the strongest in Westeros. The two have been taking to the field together for generations. In its darkest hour, House Stark knows it can rely on House Tully to be there, sending their best troops to engage the enemy. And those best troops are arguably the Tully Cavaliers, some of the most resilient and well-trained cavalry units in the land. House Stark players will soon be able to add this stalwart unit to their ranks. Let's take a look at what these riders can do.
If there is one thing the House Tully Cavaliers are known for, it's their devastating charges. While cavalry units of all types are known for strong charge attacks, the Tully Cavaliers' make any other cavalry's charge seem quaint by comparison. On the tabletop, this is represented by the Cavalier's Lance attack. It rolls six dice whenat full ranks and gains several bonuses when charging, including: 3 extra dice, Critical Blow, and Sundering. So, they have more dice to attack with, gain extra Hits when they roll 6s, and the enemy's Defense Save is reduced. Truly, they can devastate an enemy formation with an attack like that. The Cavalier's best bet is to charge in and wipe out an enemy right away.
However, assuming that doesn't happen, the Cavaliers aren't entirely helpless. Their own Defense Save is a very sturdy 3+ and their Morale is a 5+. The unit will not easily be taking Wounds and will be passing most Morale Tests they make, even if they are given some sort of disadvantage.
The view of a unit of Tully Cavaliers baring down on their enemies is enough to raise the morale of surrounding troops. This is brought to the tabletop via the unit's Embolden ability. It grants other friendly units within Short Range a +1 to their Morale test rolls. This means more of the Stark player's rolls will be successful and fewer models will be removed when a test is made. As such, the Cavaliers are a great centerpiece, literally, to any army.
Veterans of the Watch
The Night's Watch is Ever Vigilant. Far in the north of Westeros, The Wall protects the civilized lands from the dangers that lurk beyond. Manning The Wall is the Night's Watch. These discarded sons of Westeros have sworn to protect those that cast them out against any and all that might threaten them.
Builder Crossbowmen
The brotherhood of the Night's Watch has pledged to keep Westeros safe from all the horrors that live north of The Wall. Forsaking any life they might've had before joining, they are entirely committed to their vows. Within their number are the Builders. They maintain the fortifications in and around The Wall, as well as all the arms and armor used by the Night's Watch. Their forges create some of the best and hardiest gear, including the valuable crossbow. While there are the massive ballistae that act as siege weapons, as well as the Scorpions that are light enough to be taken to battle afield, they also create hand-held crossbows. They heavily train with them, becoming a fighting force of their own. Next month, Night's Watch players will be able to add the Builder Crossbowmen to their forces. Let's take a look at how they operate.
Being the ones that built the crossbows, the Builders are also experts in their use, having trained intensely with them. This results in the to-hit number for their crossbow attack being a 3+ and rolling seven dice when at full ranks, and even when one rank has been destroyed. The power in these "little instruments of death" is so great that they can attack at Long Range and apply Sundering. The crossbows aren't the only armaments the Builders have. They also can go into battle wielding longswords. While they are competent in their use, the Builder Crossbowmen would still prefer to reach out and touch the enemy at range. And, if an enemy wants to do them engage via a charge, the unit's Ready! Aim! Fire! order lets them get an extra attack in before the enemy closes in.
On the defensive side of things, the unit shows their weakness. With a Defense Save of 6+ and a Morale value of 7+, this is a unit that really does not want the enemy to attack them. Their moderate speed of 5 also means that they can't outrun most enemy units wanting to chase them down. However, the Builder Crossbowmen would really hope that their last-ditch attack thins the enemy ranks as much as possible.
The Builder Crossbowmen are a perfect unit for Night's Watch players who want to add some ranged attack damage to their force. They should be kept well away from the enemy, but within range of their trusty crossbows. Supported by units able to take a melee hit if necessary, they can do a lot to bring victory to the Black.
Aeronautica Imperialis: Wings of Vengeance (Available on 9/7)
The Aeronautica Imperialis: Wings of Vengeance boxed set includes everything you need to play exciting games of aerial combat between aircraft from the Imperial Navy and the Ork Air Waaagh!
The set includes the following Citadel multipart plastic miniatures, each supplied with an Aeronautica Imperialis base:
– 2x Imperial Navy Thunderbolt Fighters (can be assembled as Thunderbolt Fighters or Thunderbolt Fury Fighters)
– 2x Imperial Navy Marauder Bombers
– 3x Ork Air Waaagh! Dakkajets
– 2x Ork Air Waaagh! Fighta Bommers
The set also includes a 36-page rulebook featuring the following information:
– The full Aeronautica Imperialis game rules, including how to build your force using Squadron Lists, how to perform Ace Manoeuvres, field different classes of aircraft and unleash ground defences. Learn how to manoeuvre your aircraft, adjust their altitude and change speed while avoiding the risks of crashing and breaking up (if you exceed your maximum speed). There are even rules for special manoeuvres including landing, taxiing, and taking-off.
– The Dogfight scenario, as well as optional rules for fighting at night or in bad weather conditions
– Squadron Lists, providing details of all of the aircraft in the box as well as their weapon options and special rules
– A reference page showing the 8 different manoeuvres aircraft can take, as well as a 2-page quick reference containing the key game rules
And more…
– 1x double-sided card Area of Engagement game board (depicting two aerial war zones)
– 1x double-sided card token sheet (70 tokens to help you keep track of all the action)
– 8x Six-sided dice (white with black pips)
– 1x Transfer sheet (for the Imperial Navy and Ork Air Waaagh! aircraft included in the set)
– 2x Quick reference cards (containing the key game rules)